Our commitment to quality and service ensures that our clients have a great experience every time they enter our spa!
With years of experience and continuing education, our dedicated staff is ready serve you and your beauty needs. We will help you decide the best look, and deliver just the right services to achieve it. Our comfortable, relaxed atmosphere is designed to make you feel great! Come see us soon.

BOOK APPOINTMENT
Facial Treatments
Experience our professional facial products and services.
Customized for you skins needs
Cleanse, tone, hot towels, exfoliation, pore extractions, treatment mask, hydrate & facial massage. Recommended for basic skin types (dry, oily, combination, sensitive).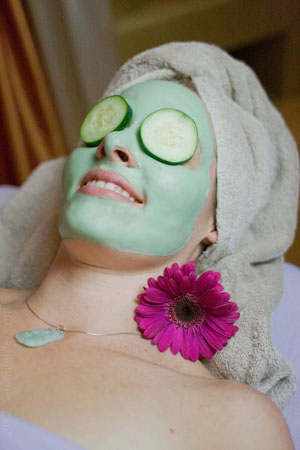 Advanced skincare customized to target your unique skincare needs. Includes cleanse, tone, exfoliation, pore-extractions, hot towels, & facial massage, Plus your choice of the following advanced skincare masks:
Problematic Mask - Acne treatment mask to tame breakouts and blackheads
Rosacea Mask - Calming treatment for redness & blotchiness
Plantomer Mask - Healing & hydrating treatment mask for sensitive skin
Oxy-Vital Mask - Healing treatment mask for sensitive or post-operative skin
Anti-Free Radicals Mask - Reduces fine lines & nourishes dehydrated skin
Strawberry Hydra-Boost - Deep-Cleansing, healing & hydrating treatment mask
Papaya Hydra-Soothe - Repairs & soothes while preventing breakouts
Recommended for Pre-Teens. No pore extractions or treatment mask. Just a quick cleanse, tone, exfoliation & cream application.
All too often, we neglect to take care of the skin on our backs, but the dry winter weather and the residue from hair products can easily result in itchy backs & breakouts.
The Back Facial includes all the benefits of the traditional facial treatment. Our estheticians will cleanse, exfoliate, and tone your poor neglected skin, concluding with a luxurious moisturizing massage. Never hide behind an itchy sweater again!
Dermaplaning Facial
Dermaplaning removes 21 Days worth of dead skin cells,suited for drier skin types and anyone who wants to get rid of peach fuzz. Allows greater penetration of skincare products and creates a flawless canvas for makeup. $125 or add on to any Facial $50
Glycolic Acid Peel Facial - Acne Treatment
Refines skin textures, Reduces fine lines & brightens dull skin, evens complexion. Helps with breakouts & scaring.
gPeel & Recapture Retinol Facial
Amplify results and capture radiance in under an hour with the Pevonia Spa Clinica PRO Peel & Recapture MIcro Retinal Treatment! Featuring an unsurpassed formula, this high performance treatment combines a deep cleansing, potent yet gentle peel, and Micro-Retinol treatment to recapture smoother, denser, and younger looking skin instantly!
Suitable for all skin types except sensitive and acne.
Stem Cell Phyto-Elite Facial
This groundbreaking freeze-dried treatment redefines the anit-aging facial! Infused with the first ever blend of Argan and Comfrey Stem Cells and adds a mask and cream with supercharged de-agers like Collagen, Retinol, Elastin and other key actives, it starts working from the first application. Visibly reducing lines and wrinkle depth, it delivers a smoother skin surface, and long-term protection of the skin's naturally repairing stem cells. The Intensive Mask is scientifically crafted for optimum benefits! Powered by a ground breaking X2 plant stem cell formula as well as key repairing actives like Shea Butter and Aloe. This revolutionary de-aging mask delivers healing, rejuvenating, and hydrating benefits to the skin.
Luminous "C" and "Sea" Facial
This Treatment features a potent blend of stabilized vitamin "C" combined with the latest high-tech formulation of freeze dried seaweed. It reduces fine lines, strengthens elasticity, and provides relief for dull, sun-damaged skin. Your complexion resurfaces renewed, firm and extremely smooth and a luminous glow.
Polish, soften & reduce fine lines. Redefine & smooth skin. Reduce acne scaring, Includes cleansing, toning & mask with Cool towels.
Micro controlled peeling gently removes dead skin cells to treat fine lines, acne prone skin, and sun-damage or superficial scaring. Microdermabrasion triggers the skin's repair mechanism to produce healthy tissue growth, making your skin softer and firmer.
Return to Top
Service Policy
The Spa Services We Offer in Sherwood Park
Whether you need a day to relax or you have a special occasion coming up, visit Verve Salon & Spa Ltd. Get anything from a pedicure to a massage done by certified and licensed professionals, all under one roof.
Comprehensive Care
As a full spa services business, Verve offers almost everything, including:
Skin services: We rejuvenate and perfect skin of all types through facial treatments, body wraps, and exfoliating scrubs. We also offer permanent makeup application by experienced technicians.
Nail service: Come to our nail technicians for manicures and pedicures, gel nails, and custom nail art.
Whole-body health services: Pamper yourself with massages, waxing, or lazer hair removal. Additionally, we offer weight loss coaching and men's grooming consultations.
Special services: We host all kinds of special events, including makeovers, diva parties, couples' and group nights, and wedding parties.
Aesthetic services: Our beauty experts can assist you with makeup artistry, lovely eyes services
Billing Direct to Blue Cross for Massage Services.
Open Appointments
To make an appointment for any one of these services, call us now at (780) 416-2700. Visit us at our location at 11 Athabascan Ave., Suite #152 in Sherwood Park. By Appointment Only.
To ensure prompt service book appointments by phone or online . If you need to cancel an appointment we appreciate at least 24 hours notice.

No shows may be subject to payment in part or in full at the discretion of management.